What to know About Hearing Aids for Children
Finding out that your child has hearing loss can be a scary time for parents, as well as their children. While you may find yourself in a swirl of new terms and practices like auditory habilitation, tympanostomy tubes, or cochlear implants, it is important to remember that getting your child fitted for hearing aids is an easier process than ever before. Whether you have an infant, child, or teen who has developed hearing loss, take solace in the fact that the pediatrician or ENT physician caring for your child has a world of modern medical resources at her disposal.
There are many reasons why a child might need hearing aids. Between two and three of every thousand children are born deaf, or with some degree of hearing loss. Others may develop hearing loss as the result of an infection, an adverse reaction to a medication, a pre-existing genetic condition, or the accidental exposure to loud noises. Each of these causes may require different treatments, therapies, and/or habilitation plans. However, though there is no one-size-fits-all treatment for hearing loss, your child's doctor will help you develop an appropriate course of action tailored to your child's specific needs.
The Importance of Early Treatment
If your child's audiologist does recommend hearing aids as a treatment for hearing loss, it is of the utmost importance that they are fitted as soon as possible (infants as young as four weeks can be fit with hearing aids) and that you remain vigilant in ensuring your child wears them consistently. For newborns and toddlers, this consistency is vital to ensuring normal brain development, as consistent sound input is important in forming brain pathways for speech, hearing, and language skills. Since language is taught through context and repetition, early treatment is important to ensure that your child is able to keep pace with his peers. Child psychologists have also found that consistent hearing is important to the child-parent bonding process, helping children build trust in parents and in the consistency of the world around them.
Hearing Tests
Fortunately, the process of completing hearing tests and getting children fitted for hearing aids is rather straightforward. Testing for newborns is perhaps the most technical, as it requires either an Otoacoustic Emission test (OAE) or an Auditory Brainstem Response (ABR), but both are relatively simple: an OAE involves using a tiny microphone to measure the level of sound reflecting off of a child's cochlea, while an ABR involves monitoring the brain for response to auditory stimulation. To test infants ages 7 months to 2 years of age, children are exposed to sounds from hand-held devices or loudspeakers and their reactions are monitored. For toddlers and older, headphones are used to play sounds of varying frequencies to both ears and then children are asked to verify that they have heard it with words if they are speaking, or with an action like touching a toy if they are not.
Hearing Aid Fitting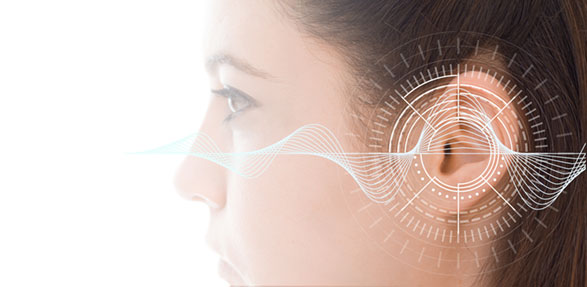 Once the tests have confirmed that your child is suffering from hearing loss, your child will be fitted with a hearing aid over a simple three-step process. First, an impression of the outer ear canals is taken to form-fit the hearing aid to your child's ear. Though this does involve placing cotton or another obstruction in the ear canal before filling the ear with the impression material and letting it set, it is a painless and mostly non-intrusive process. Second, after the audiologist has received custom ear molds based on the impression taken, they will ensure that they properly fit your child. This part of the fitting is when the hearing aids are first turned on, and even the youngest of children usually respond immediately to the new auditory stimulation. Finally, your audiologist will explain the practice of inserting and removing the hearing aids, tricks for telling the right and left ear molds apart, and how to disassemble, store and clean them.